Planning
This year's trip will include Mark, Chris, Glyn and Artie. We will fly into Paris, landing on May 27 and start the ride from the south side of the city.  We will head south and east to the Route des Grand Crus starting at Nuits-Saint-Georges and down to Beaune and beyond.  The trip will take us down the Rhone valley, ultimately to the airport at Marseille (Marignane) where we will fly back on June 12.  France is one of our favourite countries for cycling and June is one of the best months to be out there - long days and a little ahead of the summer madness.
The flight out has been rerouted through Quebec City, so we are now not landing in Paris until just before noon.  We are planning to take the bikes on the RER from CDG to Melun - but we will have to put them together in the airport and make sure we are in Melun before rush hour at which point bikes are not allowed.
Here's the plan:
Fri. May 27 - Vaux-le-Penil (5) - Les Magnolias, 521 Rue de la Noue (bc)
Sat. May 28 - Sens (75) - Les 5 Sens, 33 rue du Général De Gaulle (bc)
Sun. May 29 - Auxerre (140) - Hotel du Commerce, 5 rue René Schaeffer (bc)
Mon. May 30 - Semur-en-Axois (225) - Hotel du Commerce, 19, rue de la liberté (bc)
Tues. May 31 - Chateauneuf (267) - B&B Au Bois Dormant, Grande Rue (bc)
Wed. June 1,2 - Beaune (310) - L'Appart d'Isad, 30 Rue de Lorraine (bc)
Fri. June 3 - Macon (410) - Hotel Quai de Saone, 266 Quai Lamartine (bc)
Sat. June 4,5 - Lyon (490) - Oréliane & Guillaume, 43 Rue des Remparts d'Ainay (abb)
Mon. June 6 - Valence (610) - Appart'City Valence Centre, 6/8 rue Célestin Poncet (bc)
Tues. June 7 - Montelimar (660) - Citotel Sphinx, 19 Bd. Marre-Desparais (bc) quad room
Wed. June 8,9 - Orange (720) - Luc, 3 Bis Impasse Laugier, Orange (abb) apartment
Fri. June 10,11 - Marignane (820) - Antonia, 103 Chemin des Beugons (home away) apartment
Sun. June 12 - Airport - Marseille/Marignane (829) Return flight
This is the first time that we have booked hotels and apartments for every night, so the itinerary now is final, or very close to final.  We do have the option to change most of our hotel arrangements but reservations Lyon, Orange and Marignane will be non-refundable before we leave.  We will be hoping for good weather.
Monday, May 23.  Boxing Day
Bikes are now all boxed up. We're almost ready to go. Weather forecast is suggesting some wet weather for the first day or two. We love that!
Mark, Chris, Art, Glyn - This Years Jockeys
Wednesday, May 25 - Unsettled Weather Forecast
We've been watching the weather forecast for Paris to Beaune - the first five days of riding... and it doesn't look great.  Rain and thunderstorms are predicted to plague us in the first few days of the ride, and have few options but to ride through.  Temperatures in these days are also predicted in the mid teens - so we'll need to dress for it. 

Thursday May 26 - YYZ
Departure was mostly uneventful, but of course not without interest. The X-ray machine at the airport in Terminal 3 did not fit 3 of 4 bike boxes, so boxes had to be opened up and inspected. Then as we kissed our lovely wives goodbye we were caught by the CBC news and had to sign broadcast wavers.  Must be a slow news day in Toronto.
Friday May 27 - Paris / Melun
People are nervous flying into Paris these days. We had a largely uneventful arrival, except for the police and military holding us up for fifteen minutes as they arrested a suspicious looking 'gent' at the entrance to the train terminal. They do take security seriously in Paris it seems.
We unpacked the bikes and took thebtrain from CDG to the south end of Paris. The RER quickly took us to the Gare du Nord where we crossed platforms to the line that took us to Melun and our first night.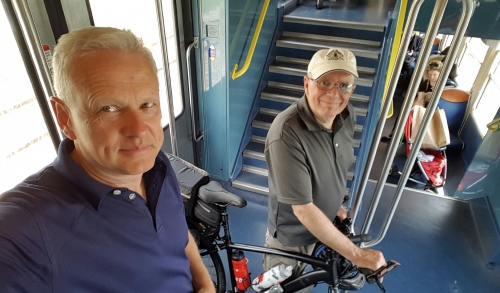 In total the train takes a little under an hour. All goes well and we head to the B&B in nearby Vaux-le-Penil. Then right back to Melun for dinner. Nothing dramatic, just another outdoor Brasserie and a couple of beers.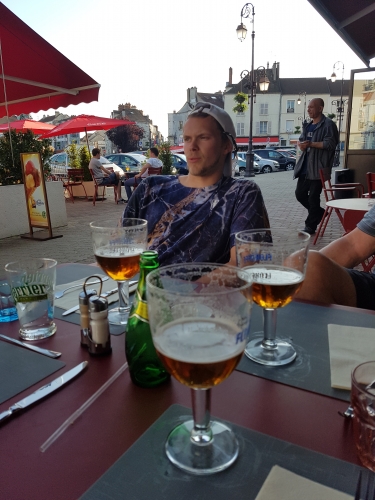 Glyn is just fine.  On our way back to the B&B we find an abandoned bicyclette.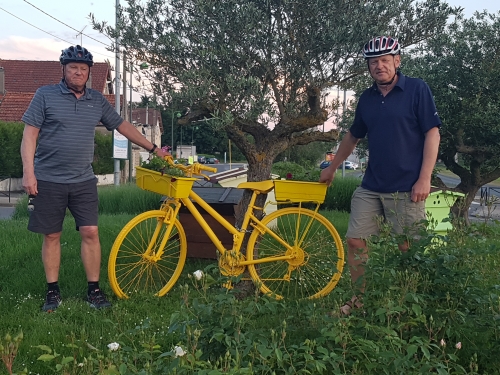 Real nice!
Saturday May 27 - Sens
Breakfast in our Melun B&B was great. Croissants, baguette, loacal cheese, hard boiled eggs and home made jam (for Chris). Weather is good, and off we qride towards Sens via Fontainbleau. We get to Fontainebleau before mid day and take a few pics at the famous Palace.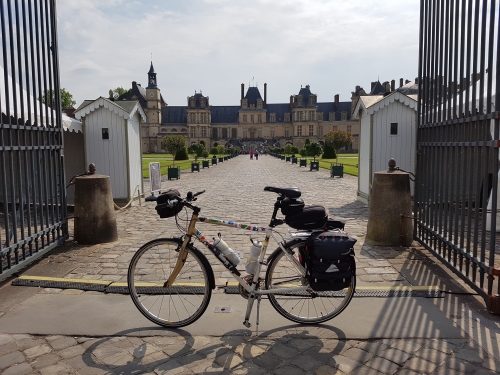 Chris is hopeful that we are half way through the day's ride. But no. Only 20 km into what ends up closer to 80. So on we go. The weather is still good so we ride up and down hills towards 
We shower up and head to town for a beer in the main square.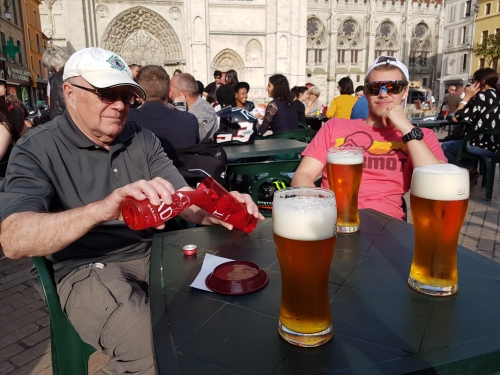 Then we pick up a pizza, baguette, camembert, Orangina and dark chocolate for the back patio. Great dinner. Good wine is such a good deal.  Pizza, pretty good deal. 
Tomorrow promises rain. Hmmm. Let's see.
Sunday - Sens to Auxerre
It rained through the night, but by breakfast there's a lull so we put on the rain gear and head out. Through the day we are mostly lucky, although we do get drizzled on for half an hour or so. More challenging than that is part of the route, that went gradually from pavement to gravel to farm track to farmer's field. We ultimately walked bikes along the soggy edge of the field for 800 metres to get to a paved road. So much for Google's ability to distinguish between pavement and potatoes.  Glyn has a picture, but I'm too frustrated to bother!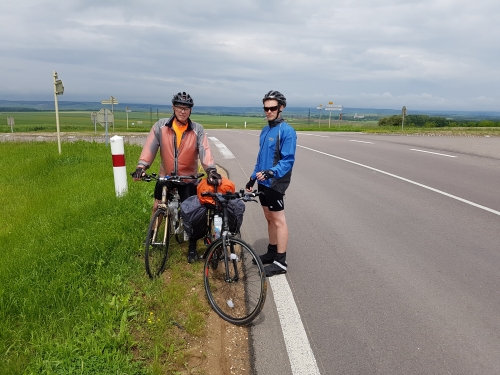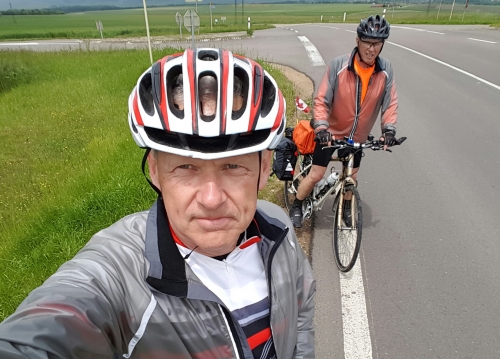 The ride ends up being about 70 km but we get to Auxerre just before 3 pm.  Its Sunday so everything is closed, including our hotel, so we wander the streets of this pretty town until we can check in at 5 o'clock.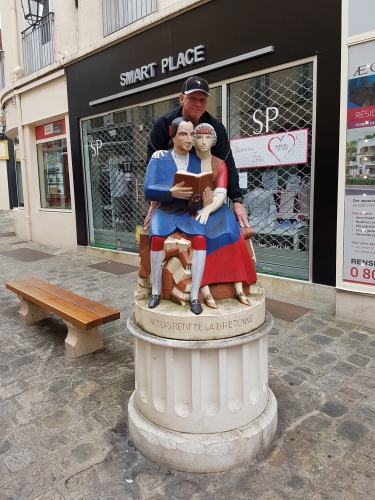 A light dinner and an early night so we can get an early start tomorrow. 
Monday - Semur-en-Auxois
Rain rain rain. There's a month's worth of rain falling here in one day. How sad is that? Too sad, and probably dangerous, for us to bite off the 85 km to Semur. So we found an alternative.
It has literally pored rain from 7am until midnight. We have had more than our luck with good weather in past trips, and now we are equalizing the odds. Vegas would approve.
Can you see the windmills? No, we couldn't either. We get to Semur, which is nice, and I'm sure would be quite beautiful in the sun. We still enjoy it, with the help of some tapas and, of course, wine.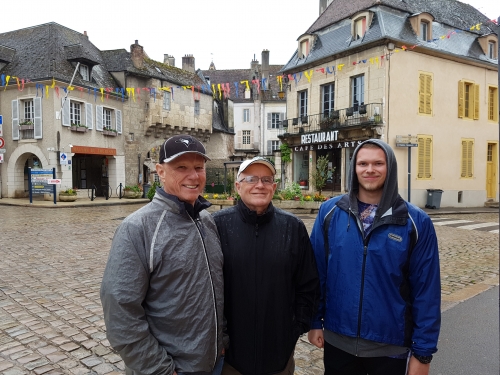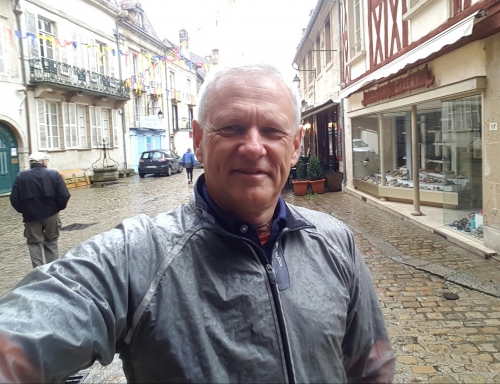 It's midnight and the church bells are ringing outside my bedroom window, praying for better weather tomorrow but expecting it might take a little longer. 
P.S. I gotta thank Vic for setting up Kodi on my phone. Don't know what that is? Google it.
Tuesday- Chateauneuf 
No, this one is not famous for its wine, but known as a central area of former Burgogne aristocracy. A tiny town perched high on a hill overlooking lush green landscapes. It's a 9.8 out of 10 for cute factor and a great spot to lay over for a night waiting for good weather to return.
Unfortunately it is still rainy and now quite cold. The forecast suggests it will start to improve tomorrow and that we will be basking in sunshine before too long. If you are a lover of a nice hot bath, this is a good day for you.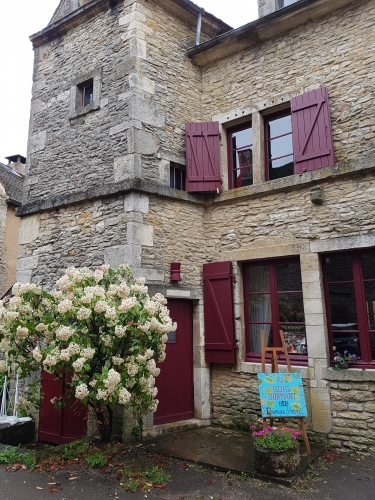 Our little hotel is fabulous, set in the centre of the town. There's a castle on the main street that dates back to the 12th century. Glyn and I pay a visit, litterally, while Chris and Art (you guessed it) stay back for a nap.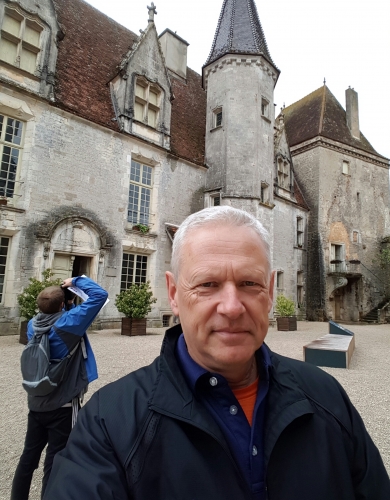 Later that evening we go for dinner. Glyn plays for the dining room. 
Wed, Thursday - Beaune
The rain stopped Wednesday evening. We saw blue sky and puffy clouds.  Finally.
But Thursday morning it's raining again. This is a day off and we are hoping for a let-up tomorrow for our 100 km ride to Macon.
Just for some perspective on the rain, this is the worst they have had in 50 years.  (A little later in the trip it turns out to be the worst in a HUNDRED YEARS... lucky us!)
This afternoon we did the self-tour of the Patriarche caves. Chris and I did this on our first bike trip in 2003. We tasted 13 different Bourgogne wines in 5 km of underground caves where the wine is aged. It's surprising how much wine is stacked down there, and it seems that if you have a corkscrew it would be easy to do some personal tasting.  Of course we stick to the approved tasting stations!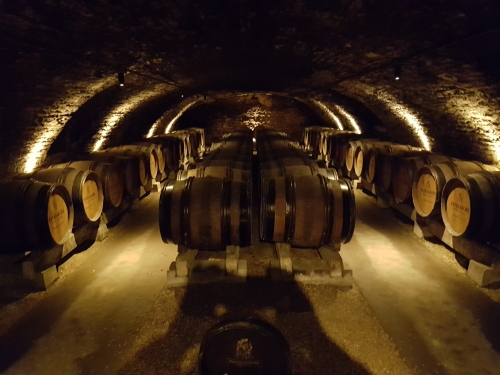 Friday - Macon
This was our longest day so far - 100 km total. Still cloudy and cool, with a little rain en route. The ride was quite nice, along Canale du Centre for about 25 km, and along the Saone for about 40 km. The canal was a nice ride, reminiscent of previous canal boat rentals, navigating the many locks.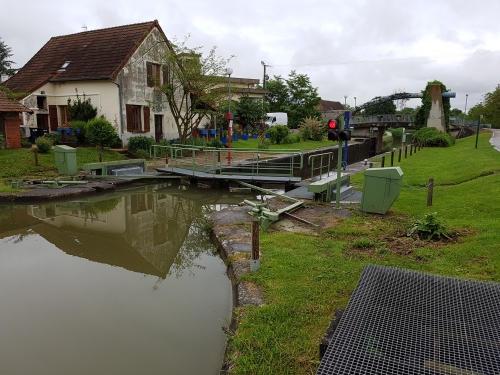 Water levels along the Saone are overflowing the banks, and crossing the bike path in a few places. I did try to cross one stretch of it on the bike and paid for it with both shoes fully submerged.  Then another 40 km of riding with wet feet.  I kinda hate that.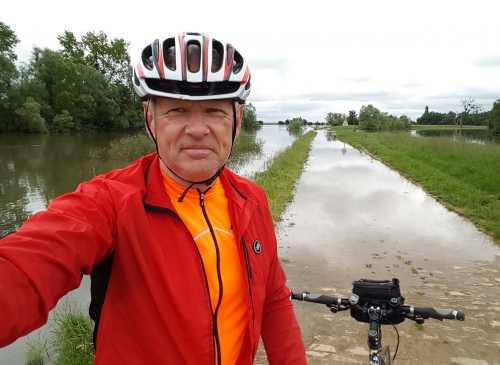 Seemed like a good idea at the time...
Macon is somewhat uneventful, although we did find good Pastis and Pizza. We are so worldly!
Sat, Sunday - Lyon
The ride to Lyon is about 80 km. The weather is gray but not raining and we are thankful. We avoid trying to stay close to the Saone for fear of having to deal with more flooding. We stop for coffee and Orangina before heading inland.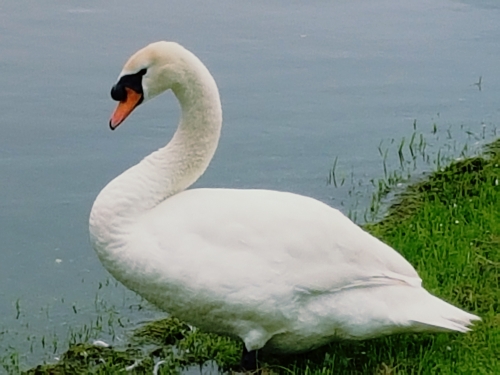 Many swans on the Saone
We are trying to get to our lodging in Lyon by 3 pm to meet our Airbnb host. We are only a few minutes late as a result of a flat tire that took two tries to fix. We get so few flats while tripping, but Chris remembers that this is very near where I had my only flat of our 2003 trip.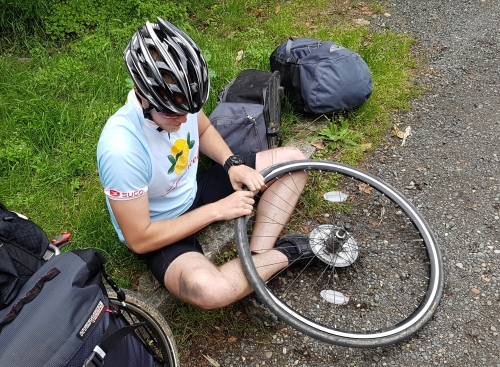 So now for something entirely unexpected. We are in Lyon, and the sun is out. Having broken my sunglasses I have to borrow Glyn's. My new look. The girls keep staring at me so I must be looking good! Right Kay?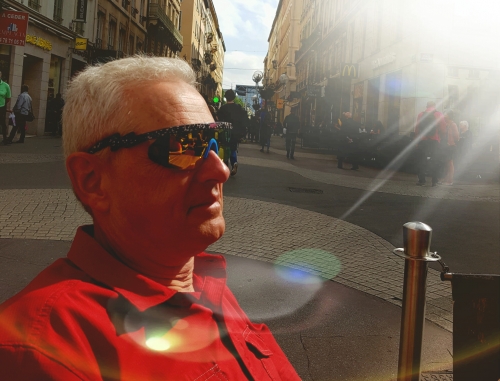 Saturday night we have dinner out. It's busy and warm enough to eat outside,  Sunday we take a long walk through the city including a climb up 400 stairs to the Bassilica, and a visit to a museum across the Rhone focused on the German occupation during WWII.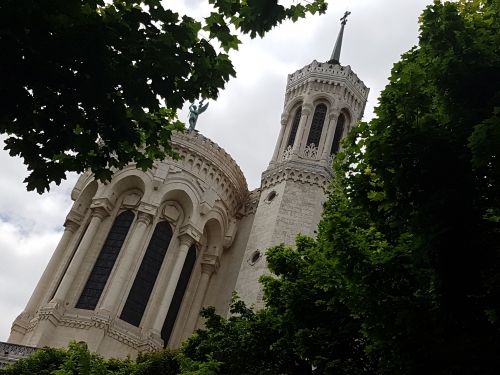 For dinner Artie puts together his special Spaghetti and Meatballs.  Can't go wrong with that.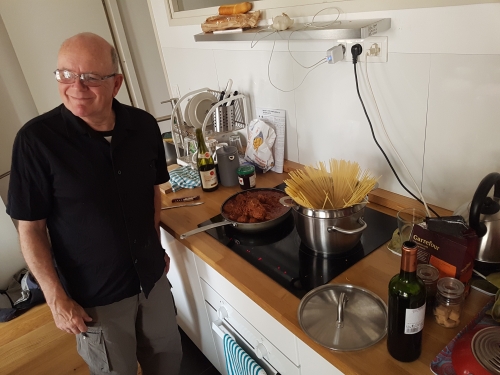 Monday - Valence
The ride from Lyon to Valence is 120 km, although some have suggested it was a little longer. It could be true.  There are three good things about the ride. First, most of it was on bike paths that wondered through the countryside and along the Rhone. Second, the weather is perfect... Finally!!! Third, the cherry trees are ripe for picking, and we do. I am pretty sure I alone ate a full kilo, maybe more. I have never seen so many cherries, fresh from the many trees that we passed.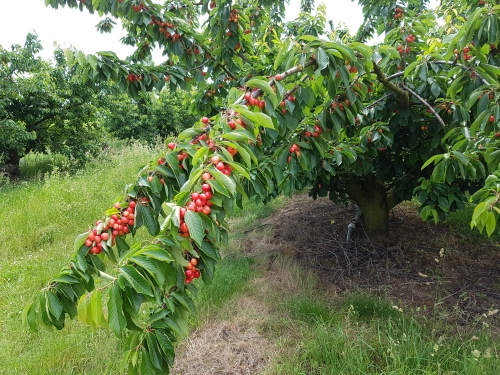 Further along the path I get my picture taken with an oddly shaped lady.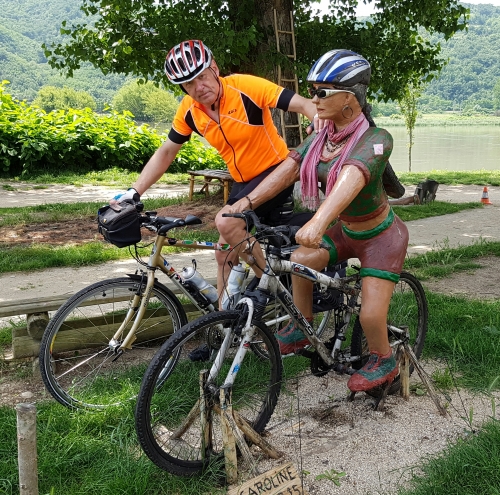 At the end of the ride we shower up, have a beer at the Victor Hugo Cafe (everything is Victor Hugo in Valence) then find a nice outdoor restaurant and order 4 Magret de Canard, switching out the regular potato with Frites. And Cotes du Rhone of course. Magnifique!
Tuesday - Montélimar
It's another nice day, and I can't get that Beatles song out of my head... 'Cream Tangerine, and Montelimar... Ginger Sling with a Pineapple heart...'
We try to get back to the bike paths going south but they are so poorly marked that we give up and go by road. It's only about 60 km today and we do pick up the path somewhere along the way. Another nice day to ride although a few are hurting a little from the day before. I wont say who, other that it wasn't me. 
At one point we cross a shallow stream. Glynie goes charging through first, a little too quickly, and ends up with his bike sliding out in the muck. More laundry to do for the young lad.
A little later we cross the river on a swing type bridge, which is a little freaky (just my opinion, and maybe Chris'). It doesn't look too high up at the end, but in the middle of the river it's quite a view, especially as the sidewalls are simple mesh and you can see through the base to the river below.  I walked the first two thirds of the span, then figure I need to speed this up and start riding.  Chris doesn't make the transition and continues the slow walk.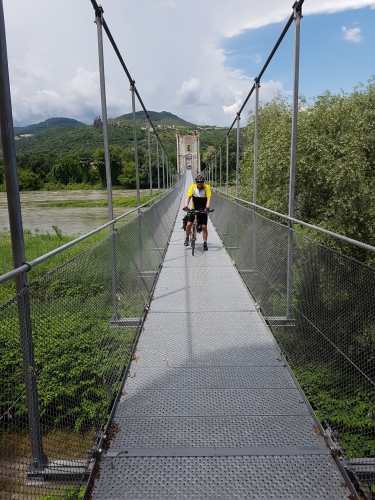 Montélimar is OK for one night but not somewhere that would draw a lot of tourists. Except for the nougat, of course, for which they are famous. We have a nice hotel  (code for one that our wives would be happy with) called the Sphinx. The day manager is a very nice gent, the evening guy is a bit of a troll and gives us menacing looks as we sit in the patio for a later evening glass of wine, of our own supply.  Later evening for us being about 10:30. We are pretty wild in some of these places!
Wed & Thursday - Orange
As we leave the hotel in Montélimar we talk to a Belgian gent who seems interested in our biking. It turns out he was a world champion cyclist in 1971, he even has a postcard sized picture to prove it. Our hotel manager comments about him quietly on the side, " ... that was 45 years ago with 45 fewer kilos". How cruel 

.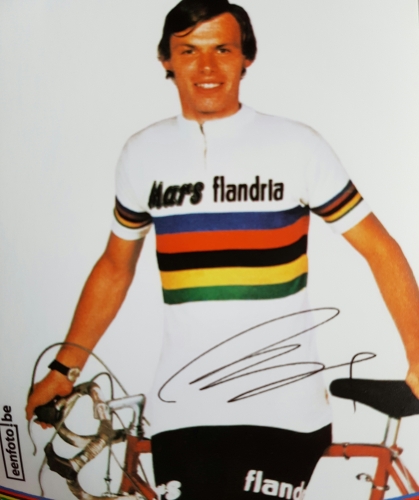 Cycling out if town we see signs for the upcoming Tour-de-France. This is one of the start points along the way.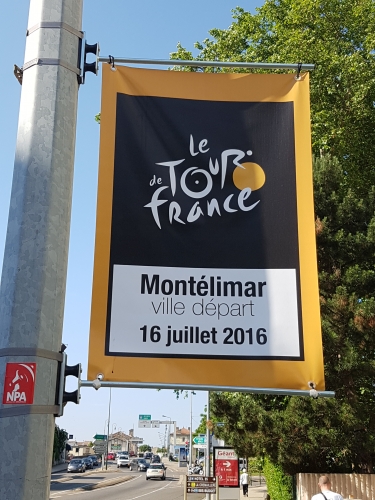 We stuck with the roads today instead of taking the time to find our way back to the bike path. Only 55 km or so. The boys are complaining that my daily estimates are usually low compared to what we end up cycling. I think they forget to add the VAT (Velo Added Tax).
It's our third day in a row of good weather so everybody is in a good mood.  Even Artie, who endures a couple of tumbles. Stoic Artie doesn't complain. Ever.
We had wind at our backs after climbing a sizable hill. 40 kph on the flats.  Nice!
Our Airbnb in Orange is fantastic. Newly renovated, granite, sauna,  jacuzzi, etc. etc. Even a washer to do some laundry.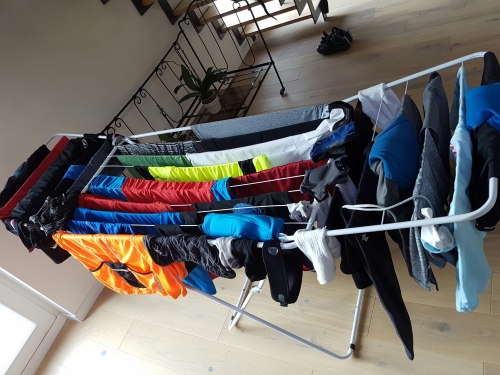 There's a Roman amphitheatre in town and there are three evenings of free concerts playing starting tonight. Chris, Glyn and I head over after dinner while Artie rests up. The band is extensive, with the usual guitar,  drums, keyboards, singers and a full strings section, horns, choir and the local kids from school playing along. 300 people in all. Wow. They play Pink Floyd, Rolling Stones, Prince, Beatles and more. The acoustics are incredible in the very well preserved ancient site. Here's a sample. 
The next day we go back to the amphitheatre to see another spectacular concert, and are mildly disappointed.  Instead of a 300 piece band, there are a handful of elderly (OK... don't say anything) people singing some cute (ish) songs that I'm sure somebody would find entertaining.  But we don't, so we leave in favour of a beer at the outdoor café across the street.
IMHO, Orange is probably the highlight of the trip.  I expected the ordinary and got the extraordinary.  That, plus it's simply a nice size for a short visit.  The good weather doesn't hurt either!
Fri & Sat - Marignane
From Orange we headed south, riding through Chateauneuf-du-Pape and Avignon to see some sites, then down to our final overnight spot in Marignane, which is the little town near the airport for Marseilles.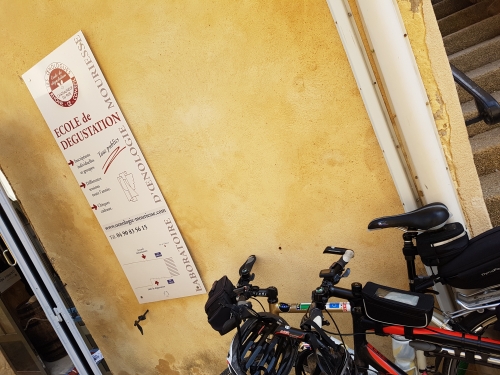 Not much going on here, but it gives us a chance to prep for the trip home Sunday.
So that's it for this year.
À la prochaine!