Trip Planning - August
Four of us on this trip will launch from Paris on the morning of September 5, 2014.  Our route will take us up the coast from Normandy, through Belgium and into Holland.  We'll visit many of the war sites that pepper this coastline to pay our respects.
We will also take time to enjoy the delights of the areas that we ride.  In France we will enjoy great wines, local camembert, calvados and some of us may even enjoy the moules - frites.  Belgium will provide us with the world's best chocolate as well as their famous Trappist and Abbey beers.  I hear the Blondes are almost as nice as the Flemish Reds.  Holland, of course, will volunteer a variety of its own beers but also entice us with frites mit fritsaus (mayonnaise), stroopwafel, croquette and of course the cheeses. Gastronomic delight!  The biking will allow us to enjoy it all without penalty.
Who's Going?

From left to right - Chris, Art, Stan, Mark.  We've done this before!
Chris, Art and I  fly from Toronto into Paris overnight on September 4. We will meet Stan at Charles de Gaulle when we arrive.  From there we will rent a car and drive to Mont Saint Michel early on the 5th.  We'll spend the day there, then drive to Bayeux for dinner and stay overnight. Biking starts first thing on Saturday. 
Our Plan (Subject to Change Without Notice)
We always start with a plan, and it always changes.  We don't book much in advance so flexibility is our friend:
Paris / Mont Saint Michel / Bayeux - Friday (Sept 5)
Normandy Beaches and Caen - Saturday (Sept 6)
Honfleur - Sunday (Sept 7).  Known for Calvedos.
Fecamp - Monday/Tuesday. (Sept 8 /9)
Dieppe - Wednesday (Sept 10).  Ill fated Canadian landing in 1942. 
Saint Valery sur Somme (or nearby) - Thursday (Sept 11).
Boulogne - Friday/Saturday (Sept 12/13)
Dunkirk - Sunday (Sept 14)
Ypres - Monday (Sept 15).  Sidetrip - Somme Battlefields (Amiens, Albert)
Bruges and De Haan (Le Coq sur Mer) - Tuesday(Sept 16)
Middelburg - Wednesday (Sept 17)
Oude-Tonge - Thursday, Friday & Saturday (Sept 18-20)
Den Haag / Wassenaar - Friday day trip
Amsterdam - Saturday day trip
Paris - Sunday (Sept 21) for departure on Sept 22
Through France and Belgium there are lots memorial sites and monuments to visit as we wander up the coastline.  In Holland we have a base camp for three nights from which we'll do day trips.  Fantastic!
Chris and Mark lived in Holland as kids many years ago so we'll be going by the old house on Van der Oudermeulenlaan in Wassenaar.  This is Mark in front of that house on a previous visit.  Yes, there's a bike there, but it was only for cruising the neighborhood.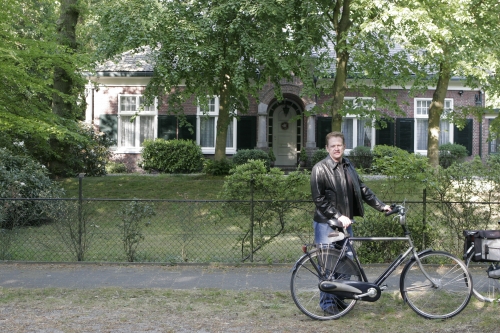 Van der Oudermeulenlaan in 2007.  Not exactly a touring bike.
Stan Leaves for Ettlingen - August 17
Stan is the first to go. He left Sunday August 17 to work in Germany for two weeks in Ettlingen near Karlsruhe, then to Paris for a week with his wife Kim before we arrive on September 5.  Since there is some train travel involved he took his bike over in a regulation-size bike bag.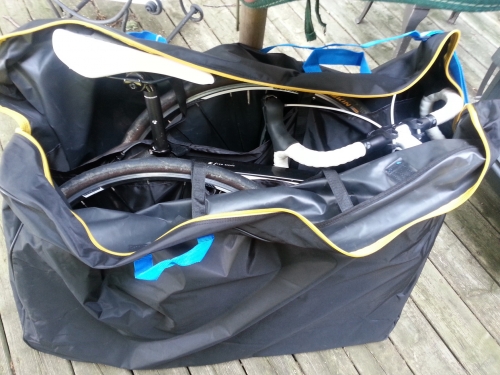 Ultimately Stan Packs the Bike Upside Down to Protect the Chain Rings
The bike arrives safely in Ettlingen, so Stan heads out on the local bike paths to do some last minute training.  Now only two weeks away from the start of the ride in France.  Fortunately there's a large stein of Bitburger Pils waiting for him when he's done. Bittte ein Bit!
Stan Snaps a Selfie with his GoPro Near Ettlingen

Stan is off to Paris Saturday morning by train to meet up with Kim!
Monday September 1
Stan is enjoying Paris with Kim, and Chris, Mark and Art boxed up their bikes.  Chris and Art are now tech whizzes and can routinely text each other with their GPS locations from PocketEarth.  No excuses for getting lost now.  We're ready to go for Thursday.

Chris, Art & Mark Fly Out - September 4
One last check of the weather forecast for the area - and it all looks good.  20C and mostly sun and cloud mix.  Perfect for biking and enjoying the occasional beer at an outdoor table.  Maybe more than occasional.
Bikes and Bikers at the Airport in Toronto
We're at the airport in Toronto. Bikes all checked in and ready to go. Well, almost. Laura is on her way to get the iPad that Chris left at home charging. Fortunately we have lots of time at the airport and our flight is delayed 25 minutes so here we wait. Patiently of course.  Perhaps we'll experience a strong tailwind on this flight. What with Chris on board. 
Bienvenue a Paris et Bayeux - 5 Septembre
Success!  We arrived with bikes intact. Stan was waiting for us after dropping Kim off to pick up our plane on its way back to Toronto. The Ford Galaxy was not quite the 'full size van' that we are used to but after some creative packing we did manage to get four people and four bikes into it with our meagre luggage. In leaving Paris we enjoyed a few missed turns, even with three GPS devices trying to direct us dilligently. Missing a turn on Paris highways proved to be a little frustrating, but we did eventually get out of town and after three sleepy hours of driving we arrived at our hotel in Bayeux.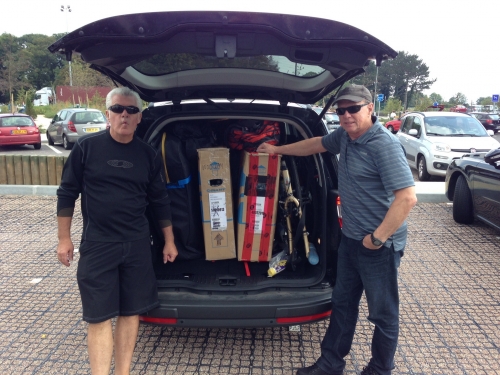 Our Ford Galaxy Ready to Go
Bayeux was the first town liberated by the Allies after the Normandy landings. Canadian, American and British flags still fly throughout the town. Makes you feel right at home. Our first stop was the tourist office, where we learnt that there are two significant events in the area over the weekend. First, a major equestrian event in Caen (nearby), and second the world famous Deauville Film Festival which opened on the same day as the Toronto International Film Festival. Guess which one Mick Jagger and Pierce Brosnan are going to?  Not TIFF. 
For dinner we had a mixture of Items. My choice was the Pizza Normand, with apples and Camembert. Surprisingly good! On the walk back to our hotel we walked around a magnificent cathedral that dates back to... I'm not sure when. Surprising for a town as small as Bayeux which I hope to come back and visit again.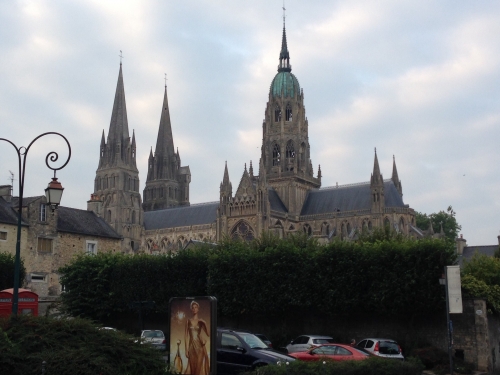 Cathedral in Bayeux
Back in our hotel we enjoyed a nice bottle of Cahors for which we paid €2.50 at the local Carrefour. One of the true joys of travel in France is the value and quality of grocery store wine.  Keeps you coming back. 
Its been a long day. Tomorrow is our ride through the Normandy Beach areas. Time to sleep.
Normandy Beaches & Ouistreham, September 6
After a light French breakfast at the hotel we headed out to visit some of the memorial sites along the famous Normandy coastline. We headed first for Omaha beach, the landing site of the American forces in the summer of 1944. British, American and Canadian flags dotted the route as we rode the 20km route to the first beach.
As often happens the GPS on my bike becomes confused, and in a momentary lapse I spent a little too much time looking down instead of looking at the road. My wheel caught a rut and twisted sideways, and suddenly I am flipped onto my back feeling only a little vulnerable not to mention embarrassed. I quickly jumped up to make sure my.bike was undamaged, and then looked to make sure my new orange jersey was OK, and finally checked myself. Only a minor scrape and a slightly bloody finger. Two matronly French ladies popped out from a nearby driveway and called us into their driveway to get out of traffic, then proceeded to administer a stinging spray and an oversized bandage to my barely scratched finger. How sweet is that.
As we rode on towards Omaha beach we came upon the Overlord Museum, with a number of Historic Allied Tanks neatly parked out front. One of the tanks was a boxy looking Canadian with a single 25 pound gun. The Americans evidently gave up trying to successfully mount the 25 big guns, so the design was passed to the Canadians who managed to complete the design and built 2,000 of them at the railway yards in Montreal.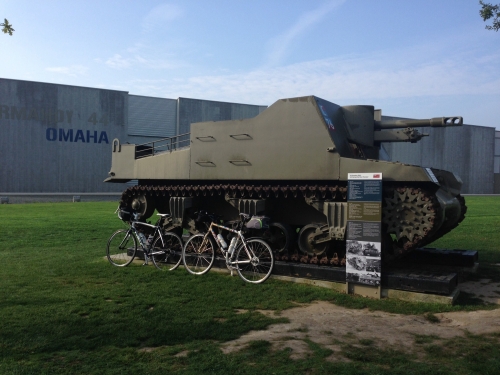 Omaha beach beach is a wide sandy beach, now decorated by the flags of all the nations that lost lives as the Allied Forces liberated Normandy, and ultimately the rest of Europe. It is very humbling to stand on this coastline, and we appreciate that the locals continue to be thankful after all these years.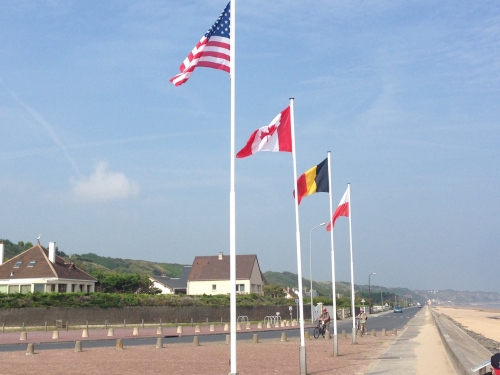 From the beach we rode a little north to visit the American cemetery. I take my hat off to the Americans who continue to honour the lives they lost here. It is impeccably maintained and very moving.  We spoke to the gentleman from Idaho who now takes care of the facility and passed on our compliments.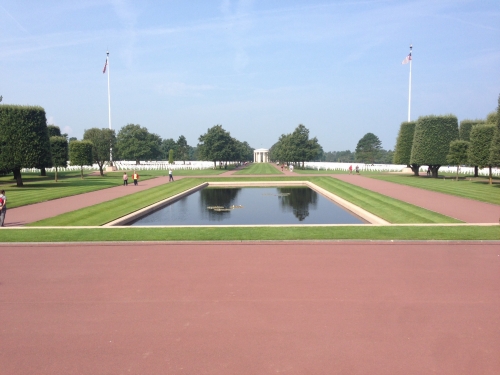 From there we pushed a little north towards Gold and Juno beaches. Part way we took the time to visit the German battery which sits high on the cliffs that look out to sea. Giant bunkers with the rusty remnants of artillery that would have pounded ships advancing on the beaches. The concrete encased guns are set back a few hundred metres from the cliff edge, presumably to protect them from attack. A single bunker on the cliff edge appears to have been used more for observation than for housing weaponry. Perhaps to help guide the guns behind to their targets.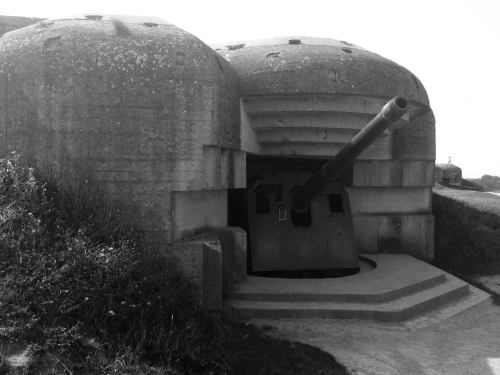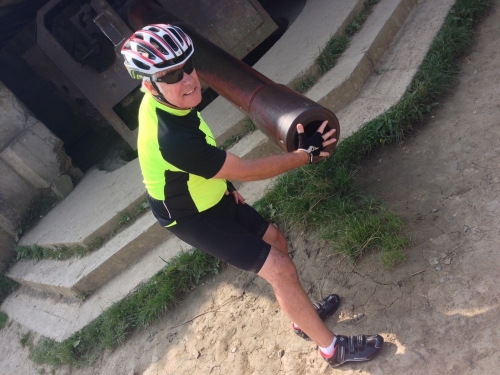 Unfortunately we ran short of time and did not get a chance to visit Gold Beach where the British came to shore. We rode further on to Juno Beach where our fellow Canadian countrymen successfully landed. As proud as I am of the heroism of Canadian troops in WWII, my father being one, I can't say that I was particularly proud of the condition of the memorials at Juno Beach. I would have expected more of our government, especially after seeing the American equivalent. Room for improvement. 
There is one impressive story told on the beach of a bunker that was overcome by a Canadian Lieutenant, which remains on the beach much as it was back in 1944. That and a lonely Canadian tank named Charlie I.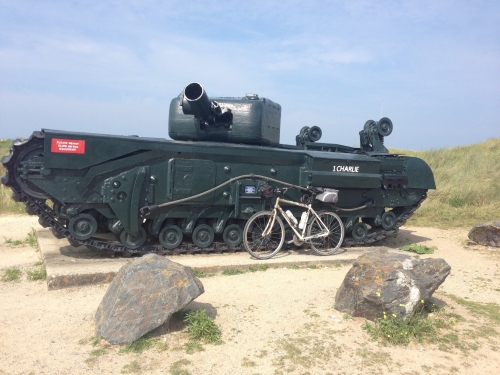 On a more cheery note, we end our first day of biking with lots of memories. We have a delightful B&B that Chris and Art found, after a considerable search. Total price with breakfast is 80 Euros for all four. We topped that off with three orders of Moules Frites and a Coq au Vin (for me), with a bottle of fine Bordeaux for a total of another 50 Euros. You can travel pretty reasonably here and still do very well. Merci beaucoup. The owner of our B&B is delightful. As we sit on her patio she brings wine glasses, pistachios and crackers. Although the bathroom is down the hall it is totally renovated with a powerful rainfall shower. The best one, perhaps, in all of France.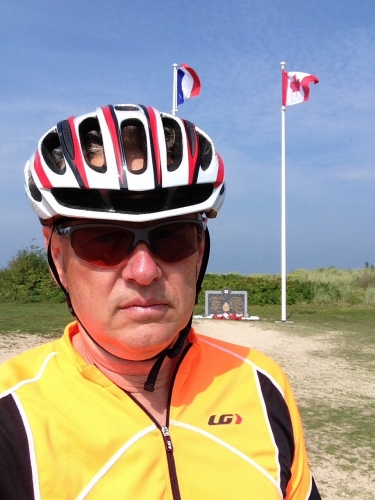 The other three are now sleeping but there is a lull in the snoring. Hopefully I can doze off before it kicks back in. Where are those earplugs?
To Honfleur - September 7
We started the day with a very nice continental breakfast of croissant, baguette and homemade jams served by the owner of the B&B. we exchange pleasantries in broken English and French but make do quite well. On our way out we all get the traditional left cheek - right cheek kiss. 
Today we head to Honfleur. Not as much to see along the way as we travel through Cabourg and Deauville. The American Film Festival is in full swing in Deauville so it is busy going through town. The good news is that the weather is perfect once the early morning marine layer burns off. Mostly sunny with highs hitting 22C. Perfect!
We were hoping for a nice B&B here but the best we could find at the Office de Tourisme was a place 3km out of town. Not great for walking into the centre for dinner. So we are at the Ibis Budget, one of the chains with standard pre-fab rooms. Not cute, but functional, clean and right in the old part of town.  
Honfleur is well known in the area and a stopover for most tourists in this region. Another Moules Frites capital of this part of France.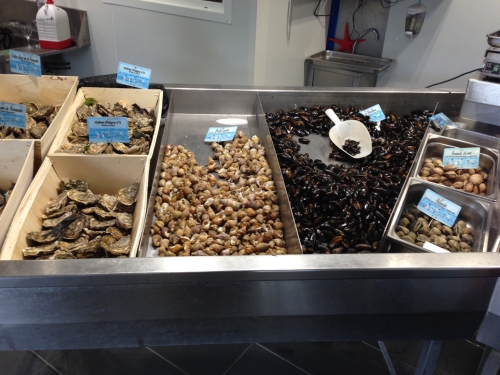 Moules
It has a nice inner harbour filled with sailboats and ringed with restaurants and shops. It will make for a nice vista for dinner tonight.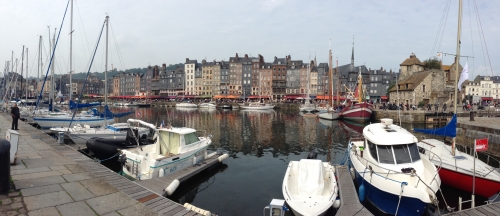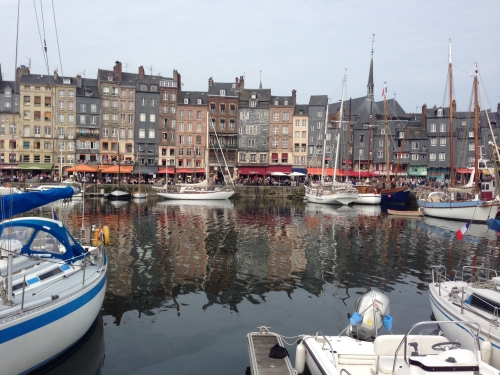 It's 3:00PM now and the boys are all napping. Happy hour will be calling soon after they awake.  As it does every day it seems...  

Later that day...
Everybody's awake, so we're off to enjoy a beer by the port. It's sunny and warm yet the beer is cold. There are lots of tourists here, even in September and on a Sunday.  Two Leffe Blondes, a Leffe Dark and a coffee. Another perfect afternoon.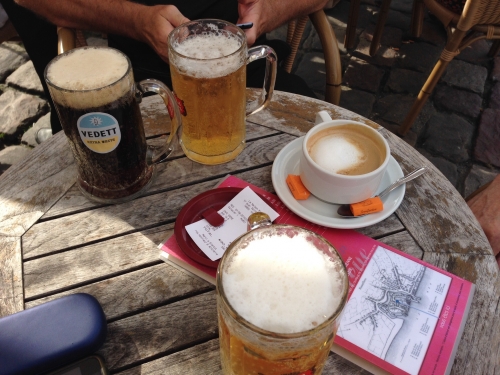 From there we head for the local Casino market for a little cheese and wine, then we head back to the port for dinner. Stan and Artie start with a plate of oysters. Art squeezes the lemon.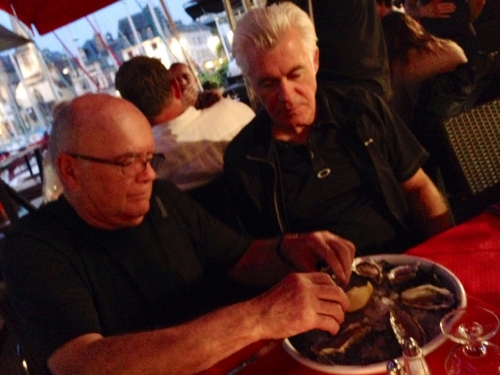 'The best I've ever had' according to Stan, but I'm still not tempted. The other three follow with Spaghetti Bolognese and I settle for a pizza which was excellent. The Bordeaux wine tonight, however, leaves something to be desired. But it's like golf, the best day at work doesn't measure up to a bad day at golf.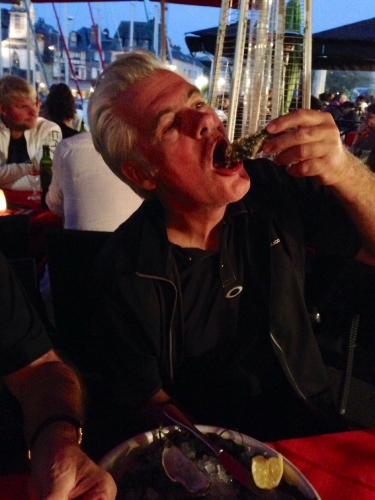 We finish the night with a bottle of wine from our room. We have no garden at this hotel so find a bench to sit out across the road. Half way through the wine we realize we are sitting at the local bus station. Oh well, it's late and we don't care. Time for bed. Stan and I Skype with Kay before packing it in. Such a small world. 
Tomorrow, pedal on to Fecamp over the mega-bridge to Le Havre. Yikes. 
To Fecamp... nearly, September 8
As we pack up to go Chris realizes that he has left his cap and sweater somewhere in town, so we start the day with a quick search of the bus station and the restaurant strip along the harbour.  No luck.
We leave Honfleur looking to take the bridge across the mouth of the Seine into Le Havre, which according to all information has a nice bike lane for us to cross. But it doesn't. So we ride eastbound to the next bridge, only 20km upstream and out of our way. The Seine at this point is not the relatively narrow river you see in Paris, but a wide muddy estuary into La Manche (the English Channel as I know it). Even 20km upstream the bridge is a long span and does not take bicycles, and it seems the nearest bridge for bikes might be Paris. A long, long way away. So we start walking the bikes along a narrow walkway at the side of the highway, inches from the oncoming transport trucks, wondering if the path will persist. Stan was not so confident, but eventually we get to the other side.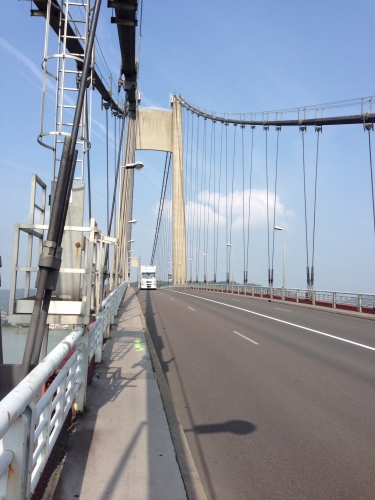 From there it is downhill all the way, Figuratively, not literally. We ride on to Yport, just shy of Fecamp, and find a Chambre d'Hotes at a good price, but without internet so no journal entry tonight. 
At dinner everybody, except me, decides on Moules Frites (again).  I enjoy the French equivalent to the Italian Quatro Stagione Pizza. With local anchovies. Hmm. Almost in my wheelhouse.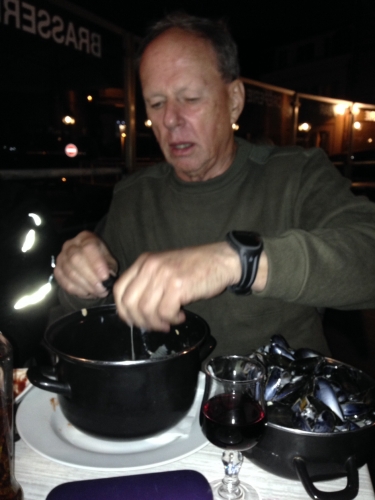 Dieppe and Criel sur Plage, September 9
Another beautiful day for riding, doing our best to avoid the traffic by avoiding the D925 wherever possible. We stop just short of Dieppe to visit the Canadian Cemetery.  4,963 Canadians joined in the attack on Dieppe on August 19, 1942.  807 were killed, 1,946 were made prisoners of war, and only 2,210 returned to England. There are new theories about the real objective of the raid that point to an attempt to capture Enigma codes rather than to liberate the local area. I'm sure those that died never knew.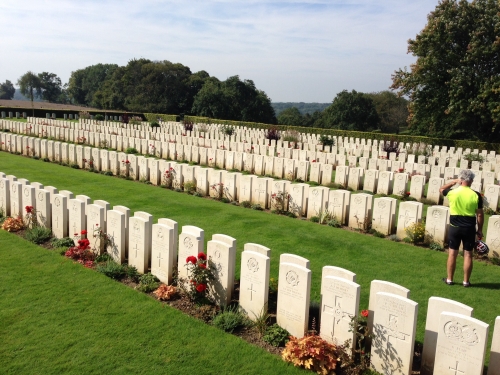 We sign the book at the cemetery then ride into the town. At one end of the town is the Dieppe castle. Stan is a little tired from the cycling so has a rest on the wall overlooking the International Kite Show on the beach.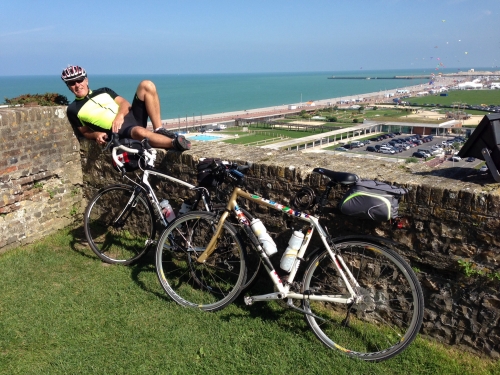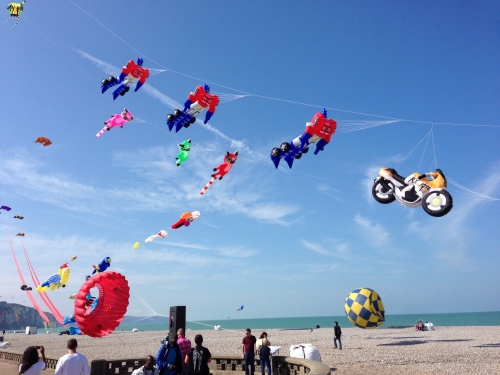 We push on to Criel, and drop into the tourist office, but not before stopping in at the local coiffure for a quick wash and set to perfectly match the ridges in my bike helmet.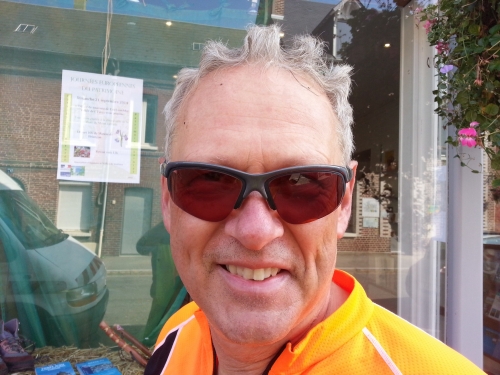 Our hotel by the sea is fantastic. A triple room overlooking the water for Art, Stan and I. A spacious 'singola' for Chris.  That's the good news. The bad news is that the adjacent restaurant is closed. So tonight we eat leftover baguette, cheese and pate. Life is so tough at times.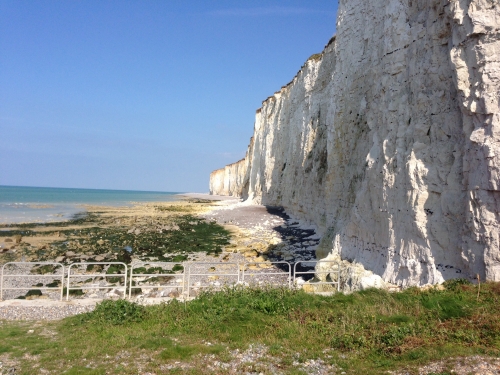 Hardelot (near Boulogne), September 10
Today is a great cycling day. We stay on very small roads out in the countryside and ambl up the coast towards Boulogne. The wind is still pushing on us from the north, and we encounter the occasional hill to help burn off our lunch. The coastline is very much like the south of England with the high chalk cliffs.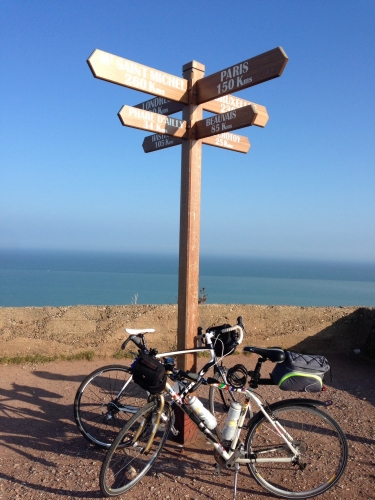 We ride on a great bike path for a short distance beside the D940 at Noyelles-sur-Mer, and pass by some of the noisiest ducks that swim a hundred metres over to check us out. 
We we end up at Hardelot and find a nice hotel where we get an apartment with kitchen and balconies. The internet works well, at least in the hotel lobby, and we get to call home using Magicjack and Fongo.
Instead of going into town for dinner we decide to make up a little spaghetti Bolognese. With a nice Languedoc and Bergerac we do quite well.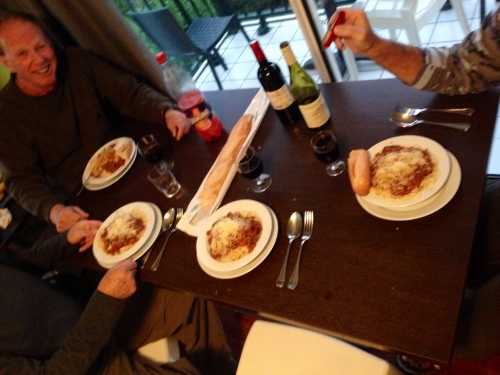 Dunkirk Area, September 11
Cooler today with even a little light drizzle at one point.  The area north of Boulogne to Dunkirk is fairly industrial, so we got through it quickly. The beach north of Dunkirk is long and wide in an area called Malo. Stan enviously looks out at the kite-boarders zipping up and down the shoreline, thinking how he could teach them a thing or two. The rest of Malo are running along the broad boardwalk which in itself is somewhat entertaining. 
We walk to the only hotel on the 2km stretch of beach, the Eole. There's a sign out front indicating the doors are closed from 3PM to 6PM, but at 2 o'clock when we arrive it is locked tighter than a drum with no activity in view. So we wander along to the tourist office where Artie finds an upgrade for his bike.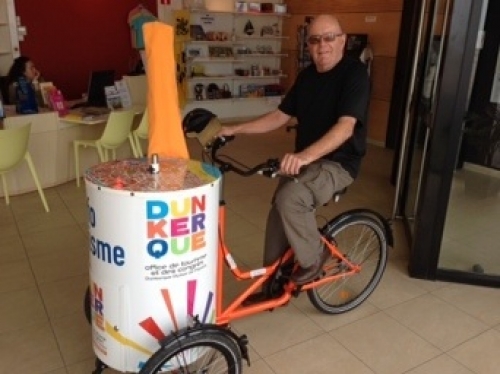 We eventually revert to calling the phone number on the door and speak with a Polish gentleman who's English is worse than my French, if you can believe it. So we speak slowly in French, and get two rooms with a sea view and breakfast for 80 Euros per room. Sa marche.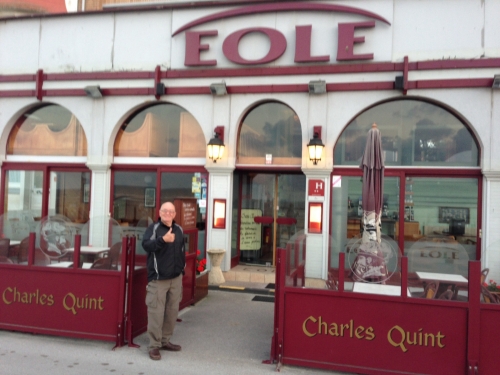 We stop in to a little restaurant intent to share a small pizza and a plate of frites, only to be ejected from the establishment for not ordering enough food.  'Zis is not a fritterie' the head waiter exclaims to the horror of his other patrons. In surprise we amble a few feet further down the boardwalk where we find an actual fritterie which is more than happy to take our money, with a broad smile. 
Back to the rooms for a short nap, then we start the evening routine. A can of Leffe beer and a glass of red wine from a bottle of Cahors which we picked up earlier at the marche for €2.50 (again). It's a hard knock life. Now off to dinner where we all have the Magret de Canard, cooked 'a point' of course so as not to offend the chef. Eating duck medium rare seems odd to us Canadians but with a nice green peppercorn sauce it goes down very nicely. With more frites of course. 
On our way to dinner Artie and Stan see something on the beach that they can't resist.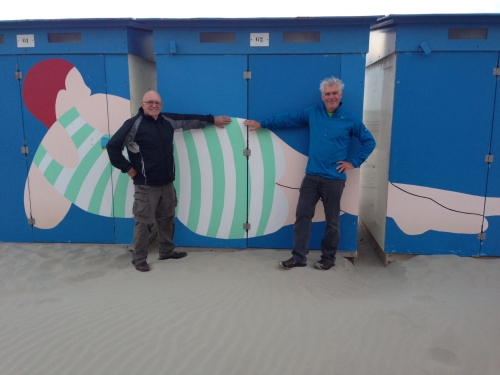 Belgium! Ypres (Ieper), September 12
The ride from Dunkirk to Ypres (Ieper to the locals) is an easy run through mostly flat countryside. Once out of town it isn't long before you notice that France is left behind, to be replaced by Flemish towns with distinctively different names. I had thought that Belgium was split nicely between French and Dutch speaking populations, but it seems a little more complex.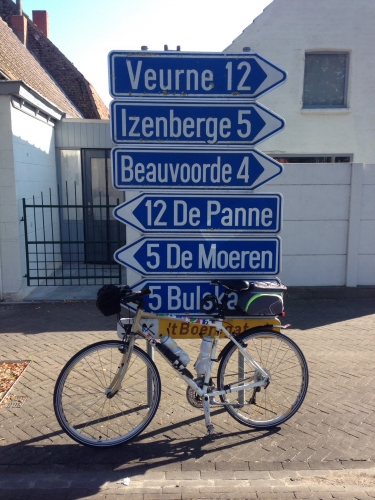 I had expected that Belgians on the French border would speak French. But no, they speak Flemish (I was told explicitly), with a dialect that might include a few French words.  On the Dutch side of Belgium we are told the Flemish includes a few more English words. English?  OK.  If you say so.  I was told this by Martine, the owner of our B&B, Ter Thuyne, in Ieper. This is a fabulous place to stay. Right in the centre, with great rooms and a back garden to sip magnificent Belgian beers. By the way, there's even a laundromat across the road, and yes, that's my orange jersey in the final drying cycle.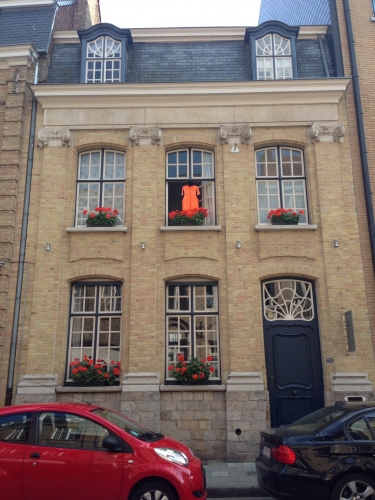 We then take a walk to the centre of town, a full block away. It's Friday and there are lots of people of all ages walking and on bikes. This is really the nicest town we've seen so far.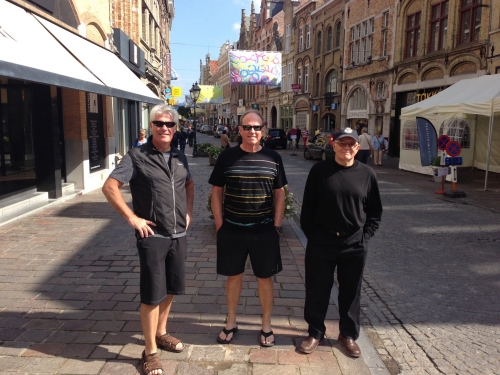 We wander the town, finish our laundry, then while Stan naps back at the room, the rest of us go to visit the museum in the centre square. 
It is truly a sobering hour, and we've had a few of those on this trip. Ypres and the surrounding area, including Passendale, were some of the worst battlefields of WWI, the war to end all wars. The museum is very effective in describing the horror of that time. Trenches, chlorine gas and death. There are old and young alike slowly going through this museum.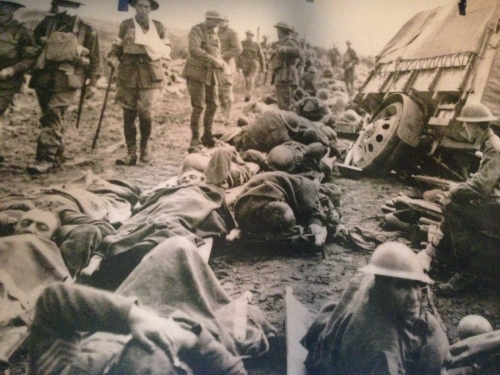 We quietly leave the museum and head back to our rooms, making a stop by the local 'beer store', not like the ones we are used to at home.  This is Belgian beer, where light beers are 6.6%, and specialty beers run over 10%. We bought a few interesting glasses and a bottle of the 'best beer in the world' which we delicately carried home to enjoy in our back garden.  I would agree that Belgian beers are indeed the best, but this one... not so much.  We seem to prefer blondes (except for Chris).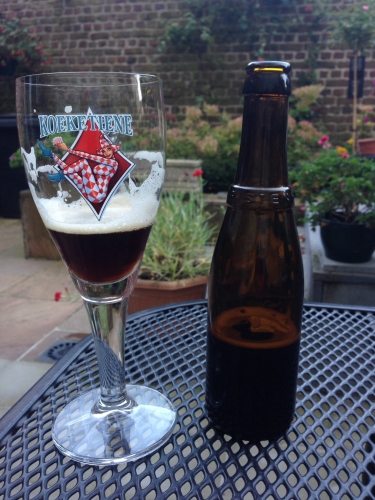 Now it's getting close to dinner time. The days are getting shorter, so the lights are all turned up in the main square. This is truly a beautiful town, and we are feeling quite at home.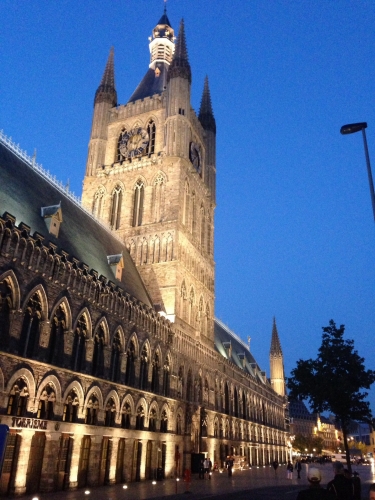 We look around the restaurant area where Stan spots somebody with our dinner, or at least with the dinner that we want. Flemish Stew. So we seat ourselves and are impressed, again, with how every local speaks flawless English without effort. We debate later how our schooling in Canada seems to miss on teaching to this level, but in the mean time we focus on yet another Belgian Blonde (beer of course), and of course the Flemish Stew.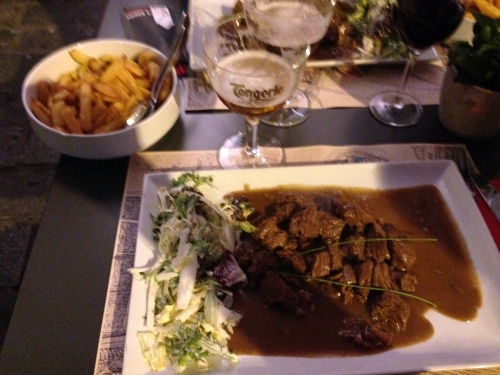 We we complete the night with a short walk around the church, only to find the local Ypriennes gathered to enjoy some live music, open to all at no cost. It's Friday night, so enjoy. 
Passchendaele and Bruges, September 13
Martine at the Ter Thyune has a nice breakfast for us in the morning. No Croissant and Baguette but lots of ham, cheese and ridiculously good yoghurt. She leaves us each a bottle of water and a little chocolate bar for our travels. Chris mentions the sign left for him in the bathroom by Martine so I snap a picture of that, then one with Martine on the way out.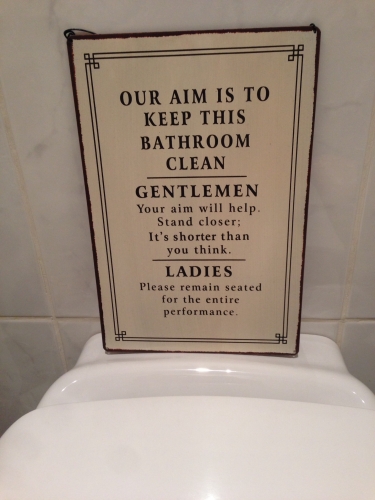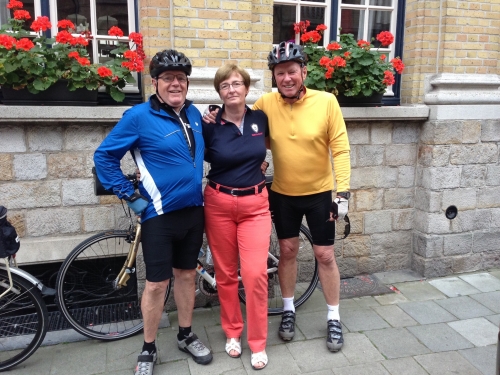 Our first stop on the route today is at Passchendaele where there were 16,000 Canadian casualties during WWI. This is a small village strategically located between Ypres and the main railway line used at the time as a German supply route. The memorial to the Canadians is unique and in a well kept little park.  Nearby roads all have Canada in their name.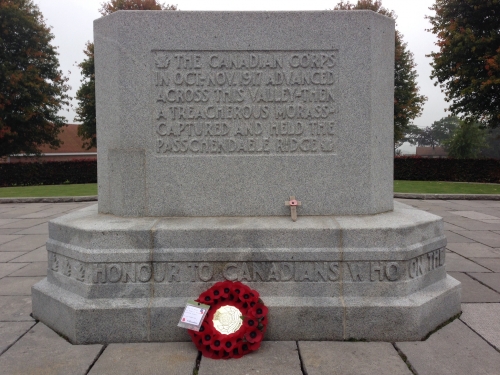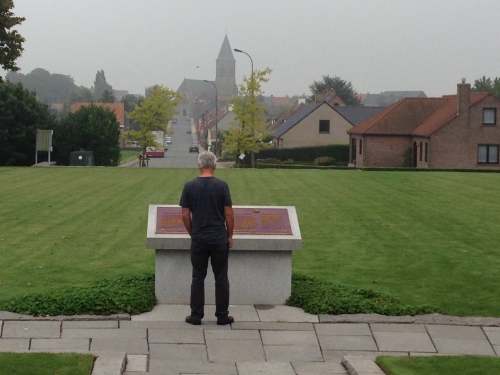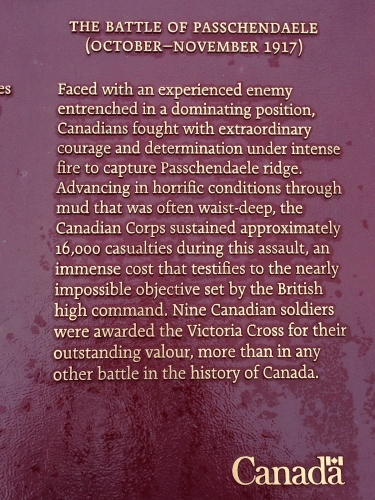 From there we carry on to Bruges, the capital of Flanders. We have a hotel room for 4 booked right in the middle of the old town. One of those places that you describe as having a lot of character. A little like describing somebody as having a great personality. It's all good. Bruges is expensive for rooms, especially where we are. Stan pours a bottle of Belgian beer for us which is 11% alc.  Half an hour later they are all napping.  Except for Artie, of course, who declined the beer in favour something more sensible. I can hardly keep my eyes open, and it's dangerously close to happy hour. 
We have a little courtyard in our hotel where we sit outside for a drink. We are in the shadow of the main Church tower and the bells ring practically nonstop. They not only ring the hour and half hour but also play a variety of tunes. Our favourite so far is 'Its a long way to Tipperary'. 
After strolling the town at dusk we circle back to our hotel and have dinner at one of the two restaurants attached. Our server from Shanghai entertains us for a few hours as three of us enjoy another plate of Flemish Stew.  Artie decides on the Rabbit Stew...
Bruges (Day Off), September 14
Happy birthday Artie!
After breakfast we stroll the cobblestone streets, and find the canals for which Bruges is famous.  Little shops selling lace, beer, chocolates and more. Artie finds a shop that tickles his fancy, but there's nothing in his size.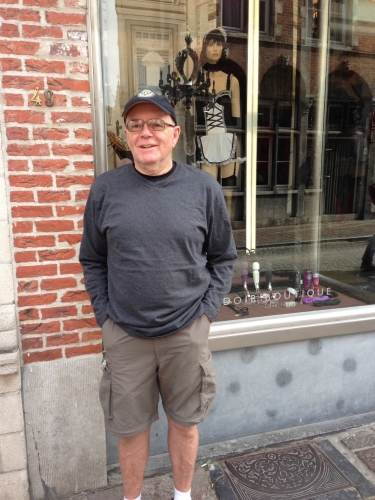 There are small boats on the canal offering tours, so we pay our €7.60 each and climb aboard. For the next 35 minutes we are meander along the waterways getting a short history of Bruges, once famous as a major European trading centre, and now more famous for its tourism.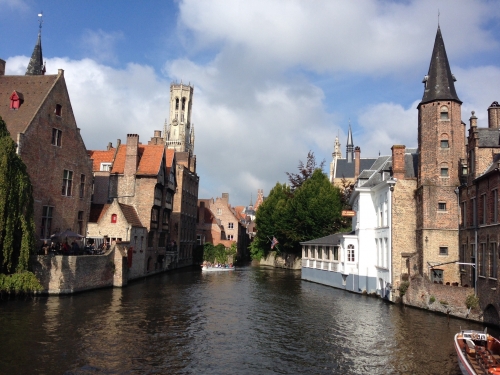 Then, just for a change, we take out the bikes and go for a ride around the town moat. We pass the four remaining windmills, complete the loop and then head back into the cobbled centre of town. Now here is something you don't see on too many streets at home, a foot operated bicycle pump at the side of the path.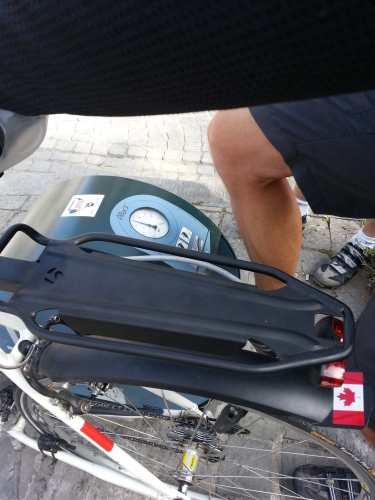 We head back to the hotel. Stan has a nap, Chris and I hunt for the grocery store, but it's Sunday and they are all closed. We at least find a little tart that we can take back to celebrate Artie's birthday. Actually four tarts, two apple and two chocolate-caramel. Perfect. 
Stan is up now, and Chris is ready for a nap, so the two of us head out to sample a little more of the best Belgians. Beer of course. We do not fail. 
The bells chime across the road from our hotel every quarter hour. On the hour there is a lengthy rendition of Tipperary. The bells are played from an organ like device with wooden handles, but we think this must be recorded somehow.
Nederland - Middelburg, September 15
The bike paths in Belgium are good, the paths in Holland are excellent. Along the North Sea we ride along the dunes that separate the sea from the low lands, we are in Holland, with the Dutch!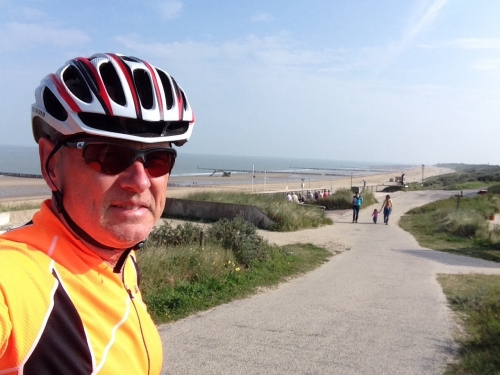 Then to the ferry where you either take your bike or have one locked up at either end. A short fifteen minute trip.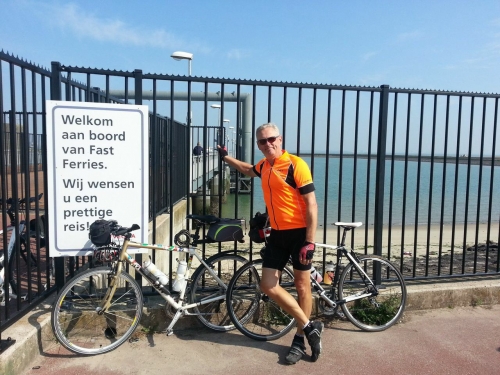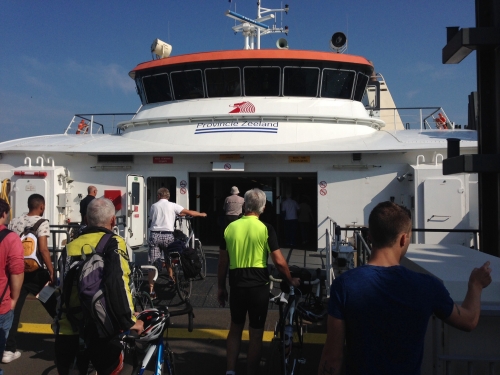 The ferry docks at Vlissingen.  From there it's a short ride along the canal to Middelburg. From the tourist information centre in the main square we start the search for accommodation, eventually choosing a small hotel right on the square. In the room that Stan and I share you have to walk through the bathroom to get to the bedroom. Obviously a Dutch thing. 
We head out to eat at 7:30, but our hotel has already stopped serving dinner so we walk across the square to the Zanzi (bar and restaurant) for fish, steak frites and Bami Goreng along with some Nederland Bier.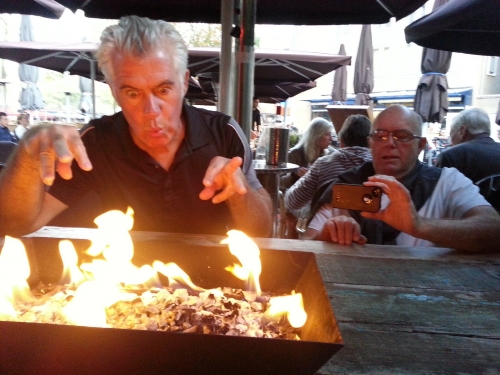 Oude-Tongue, September 16-17
The ride from Middelburg to Oude-Tonge crosses a series of dikes and polders that keep the North Sea on our left out of the Oosterschelde on the right. The water level on the right is noticeably lower, and along the first dike the huge pumps are hard at work to keep it that way. The day starts off a little foggy but quickly clears into another sunny warm day. Are you sure this is Holland?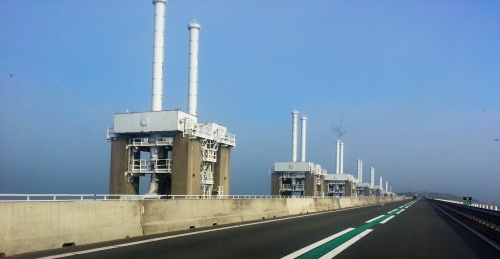 Massive Pumps Along the first Dike out of Middelburg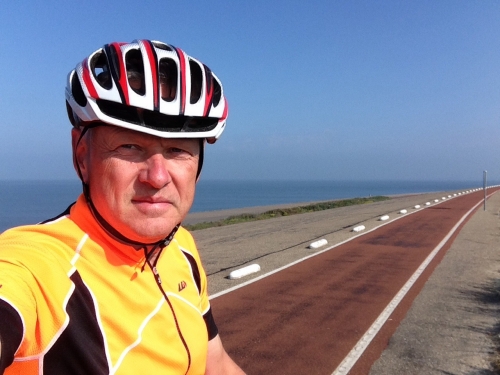 Riding here is great.  We continue along the edge of the sea, and then along the land filled polders (have I got the terminology right, if not I'm sure my Dutch friends will correct me).  For the second day in a row my Garmin GPS fails to start up, but thankfully Stan's Android OsmAnd app guides us well. Note to self, always have a back up way to navigate. 
We are staying in the cottage of Chris' neighbour, Rik. It's a great two bedroom detached unit with a large kitchen and living area upstairs. It backs on the canals where many similar units have sailboats and cruisers tied up to their private docks. 
Wednesday we take a day to relax around Rik's cottage. We do go out for an hour and a half on the bikes to explore the area a bit more.  Nothing too strenuous.
Yes, this is Oude-Tongue, not Nieuwe-Tongue
By the time we get back the hot tub is warm, and the Grolsch is cold, so we enjoy both. Stan thoughtfully brings out his GoPro so we can properly share the moment. I think we could make a little money with this one! 
 Grolsche smaakt goed in Oude-Tongue
To finish off off the day Stan prepares his world famous (it is now) Spaghetti.  Working over a hot stove for hours, we finally sit down with a nice bottle of Chianti Reserva and the race begins to see who can inhale the massive portions served first. No real surprise that I win, with so many years of experience, although noticeably the youngest of the bunch (had to get that in somewhere). Artie finishes second. Unfortunately Chris and Stan experience some kind of mechanical breakdown and don't finish at all. What a shame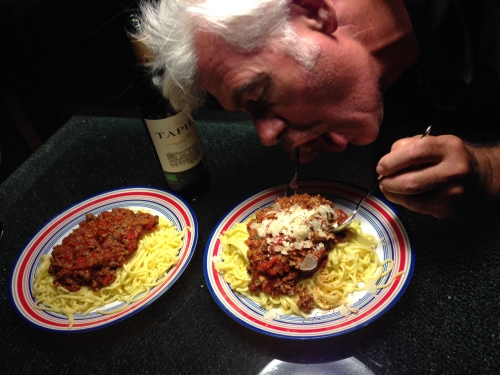 We finish our wine on our private dock while the sun sets across the canal. The end to another great day.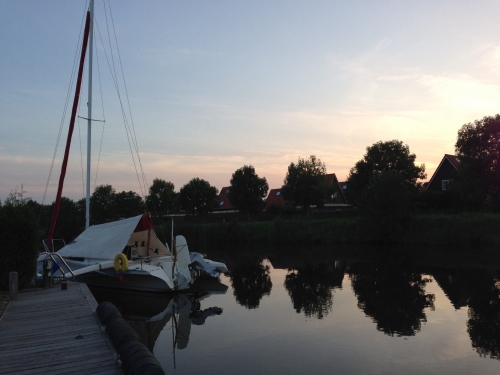 Amsterdam, September 18-19
We drive from Oude-Tongue to Leiden in the morning. With great forethought we leave the island from the north most bridge in order to avoid traffic around Rotterdam. The car GPS and OsmAnd agreed on similar routes well north of Rotterdam, and the only curious factor is that they also agree that the 60km trip will take an hour and a half. Silly machines, we think smugly. 
Not so silly after all, it turns out, as our car pulls up to the gate for a ferry...  We assumed there would be a bridge, who would know, other than both GPSs of course.
We drop the car at the train station in Leiden, and put the wheels on the bikes and set off for Amsterdam. There are bike paths for 99.9% of the route.  Bike paths are also used by scooters, smaller motorcycles and even little two-seater cars.  The etiquette is something we needed to learn to avoid protest and injury.
The little painted triangles in the road indicate right of way between bike paths, roads and other bike paths. Don't slow down if they don't cross your path. 
Pay attention to the traffic lights for the paths and don't forget to push the button.
Take up as much of the path as you can when stopped at a traffic light, to avoid having the slower matrons push in front of you.
Don't worry about people wanting to pass you, at least until the last second. Being in front is everything. 
If you see somebody making a mistake in etiquette be sure to give them shit, in Dutch of course. 
Don't smile and say hello to passing cyclists, it's just not done. Avoid eye contact if possible. 
Once we figure it out its smooth sailing, or cycling as the case may be.  The paths are really great most of the time but it's a bit like driving a car at home for the locals, a means of getting from A to B without bothering fellow travellers.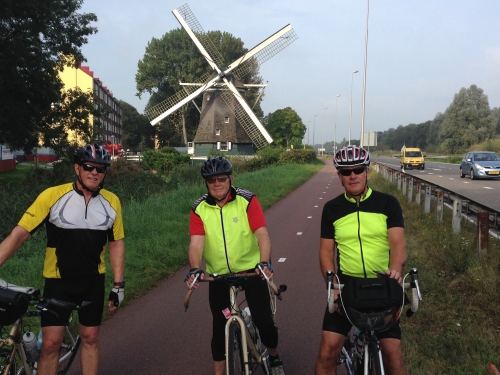 We ride along the canals, pass though the middle of Schiphol Airport, and eventually into Amsterdam. We expect a 50km ride and end up with something closer to 60km.  Still an easy day for everybody.  We have booked the Avenue Hotel which is only a block from the train station, so very central.
It's a good thing because the hotel won't store our bikes and we have to take them to the secure bike storage at the station. A friendly pedestrian talks to us along the way, admiring Artie's steel frame bike easily preferring it over Stan's sleek road bike.  He too is a cyclist and likes his 160km days. He even knows about cycling in Canada, a destination well suited to guys who like long days. 
He warns us of bike theft, even in the secure bike parking area where we are going. Lock anything that can be removed or take it with you.
With the bikes safely locked away we can now turn our attention to the city.  But first, we are forced to a sidewalk cafe to see if the Grolsch is any different in Amsterdam than Oude-Tongue. It seems not, but we have two each just to be sure.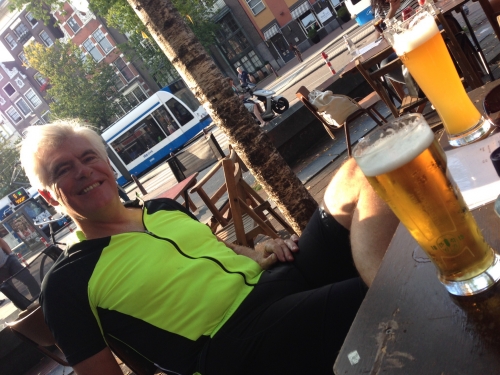 We only have one evening in town so unfortunately can't visit the museums or jump on a canal tour. Instead we set out on foot to the cultural districts.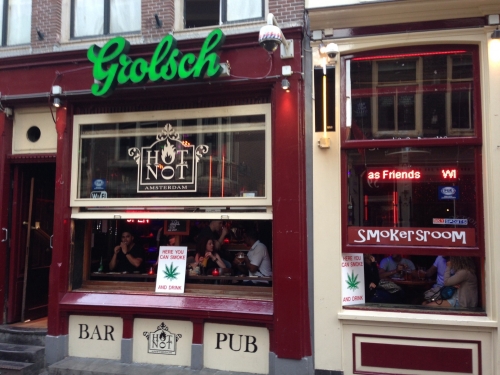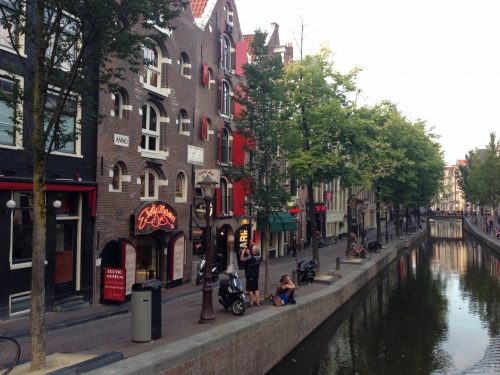 Shopping for a Birthday Present for Artie
In the morning we pick up our bikes which are exactly as we left them and pay the €2.50 each for storage. Good deal, and a slick operation. They even do some bike maintenance if needed. We are back on the paths, and have a much easier time navigating the return to Leiden than we experienced in the other direction. We are also expert in etiquette and for the next three hours we completely avoid angering other cyclists and pedestrians. 
On our way back to Oude-Tongue we stop in at the house where Chris and I lived for a few years as kids. Still there, and looking better than ever (the house, that is).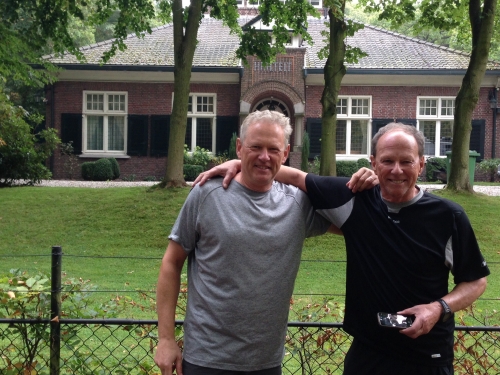 Van der Oudermeulenlaan, 12
In order to negate the benefits of our day cycling we also stop in at Hetty's to enjoy fresh cut potatoes done in a way that the Dutch excel. Mmmmm.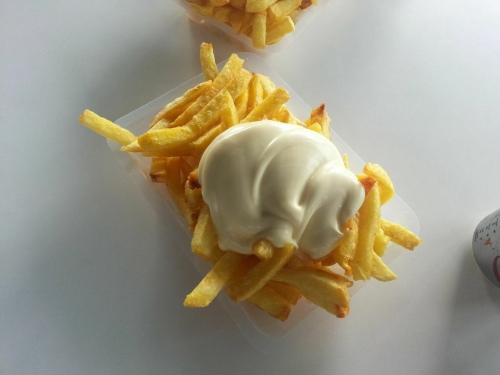 Friet met Mayonaise
Last Day in Oude-Tongue, September 20
Somebody knows that we are leaving soon. The early cloud cover is not burning off and the forecast suggests rain. So we decide to skip the day ride, and instead start the chore of putting bikes back into their travel boxes and bags.  Artie seals up his box then realizes he forgot to include the bike shoes, so cleverly cuts an opening in the side of the box rather than opening the top back up.  The odds of piercing a tire are thin, but you can hear the air rushing out as the knife slices through rubber. It's just a tire.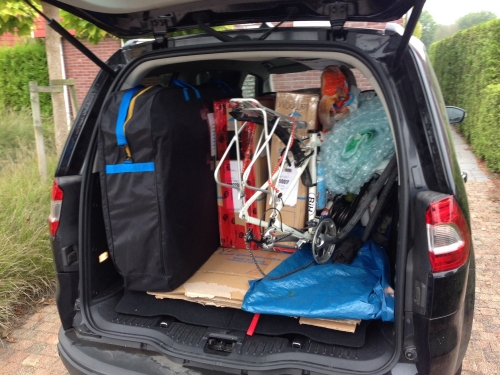 Bikes Packed Away
We now turn attention to our next meal. We're making Bami Goreng for dinner, my favourite Dutch-Indonesian dish!  No shrimp though, we'll use chicken instead. We have to pick up a few special items; Sambal Oelek, Ketjap Manis (Indonesian sweet soy sauce) and more. Stan has it figured out.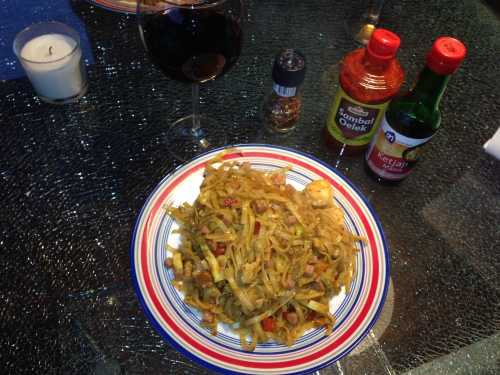 Bami Goreng in Oude-Tongue
Plailly, Near Paris - September 22
We're off in the morning to a B&B we think we have booked in Plailly near Paris, an easy fifteen minute drive to CDG for our Monday morning flight home.  We're not sure we have the booking until we get there, but it all works out nicely.  It's Sunday night and the nearby restaurants are closed, but the B&B owner, Celine, says there's good pizza sold from a truck just down the street.  She is kind enough to order for us, and Chris and I head down to pick it up.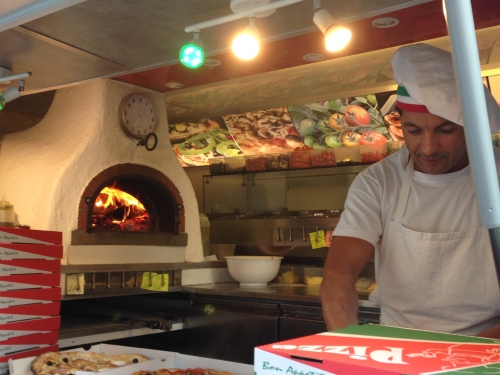 Pizza Truck
It's hard to tell from the picture that this is a truck with a wood fired oven built in.  Not sure that would pass a safety check at home, but it worked out very nicely for us here.
It's not a late night tonight, but we do manage to sample a couple of bottles of wine that the owner provides for a nominal charge.
In the morning we have a traditional french breakfast with bread that is home cooked earlier in the day.  We say our goodbyes to Celine and are on our way to the airport.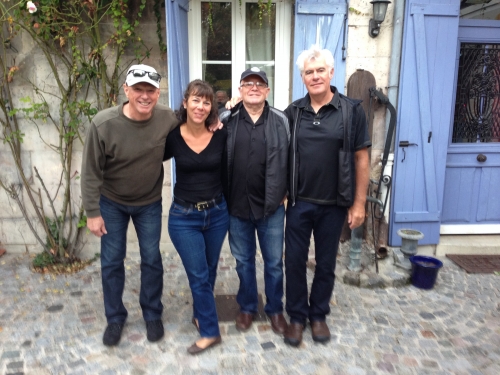 The 2014 trip comes to an end.  The car is returned, the bikes delivered to Air Canada, and now it's a simple 8 hour plane trip back to Toronto, and another hour or so for Stan to get to Kingston.  Another successful bike trip!
Next Year
In 2015 the trip will be in Southern Italy, starting in Ortona and ending in Lecce.  Stay tuned.
---
Appendix - Links for this Trip
Best of 2013 Bike Trip - Downhill in Provence
Rick Steves - Normandy
Dieppe Massacre in 1942 - A New Perspective
Boulogne - Liberated in 1944.  British Movietone.
Rick Steves - Bruges and Belgium